In the beginning....

I was just a twinkle in the eye of my creator.
Starting as a lump of clay, I was formed with the utmost care with his talented hands.
He cut the pattern that would give me my shape. That day I would start my journey.

Let me tell you how it all began........

I was born in Bethlehem, PA. The second child to Louis and Ester Fortley.
At the age of 11, my parents divorced and we moved to Clearwater, FL.
Where I would grow up to be a man.....
I was two years into a medical degree at The University of South Florida. How could I grow up and not know I could not stand the sight of blood? Even to this day, I quiver when I see needles. So, I changed directions and entered the business world. After owning a restaurant, I was plunged into using my artistic talents. I created my first handmade piece of pottery in 1984. The response took me my surprise and by storm. I sold my pottery throughout the world. I recently found some of my pieces from 20 years ago listed on Ebay. What a thrill!!

Fortley Potteries Archive

Fortune followed, but something was missing.

So, I gave up my passion after 10 years and moved west to Las Vegas in 1994, the early days of the boom. I saw the huge new casinos pop up and old ones blown up. It was an amazing thing to be part of. I turned to creating something a bit less permanent than pottery. I designed and manufactured handmade candles which sold throughout the USA.
The year was 1997 and I was again ready for a change.
I moved to Palo Alto, the heart of Silicon Valley. The Gold Rush was just beginning. The pace was fast and furious.
But, I knew, I must move on...
There must be more to life.
I was drawn to the Big Island and moved on October 26, 2001.
My latest creation is a garden made of love and hard labor.
I found happiness and peace on the side of a volcano. I followed my dreams and found paradise.
It has been the greatest adventure.
God has planted a garden for me with every tree that is pleasant to sight and good for food and put me in the midst to dress it and keep it.
How wonderful can life be?

To be continued........
Who is Keith Fortley?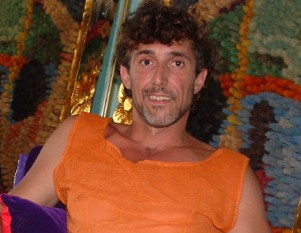 Artist Keith Fortley created and introduced over 500 unique designs to the wholesale gift and furniture industry, achieving exceptional visibility and a "Name to Know" in the domestic and international markets.